EXHIBITION: IN PROGRESS, 21 - 24 May
Students of the Willem de Kooning Academy Rotterdam University of Applied Sciences and the Piet Zwart Institute present 'In Progress'. This title refers to both work that is in process -under development- and work where dynamic process and participation are inherent.
'In Progress' intends to question 'innovation' - a concept that appears to be synonymous to technology- in relation to the notion of artistic, process and research based 'progress'.
The works in progress of the 4th year bachelor students of Willem de Kooning Academy comment on current hyped and pervasive technologies, while the work in progress of the Networked Media student of Piet Zwart Institute offers an alternative alternative scenario for communication.
works
Just in Case - Andrea Segato
Major Product Design / Minor Digital Craft
In Just in Case, the product designer Andrea Segato aknowledges that within the last decade the smartphone has woven itself into every part of our everyday life, but questions if its ubiquity is always a smart thing. Segato's kit contains 5 physical applications for asocial (smartphone) behaviours, which were directly inspired through observing the gestures, habits, and tics of smart phone users. The kit based on the idea the Chindogu (unuseless design), and design fiction. The message of these artefacts are meant as a critique of the social technologies that tend to disrupt or distract actual human to human contact.
24hour Thingiverse (Unfiltered) - Ruben van Dijk
Major Advertising / Minor Digital Craft
In 24 hour Thingiverse (Unfiltered), Ruben van Dijk questions the difference between what is being advertised and what home 3d printing it boils down to. According to van Dijk, there industry propagated myth that everyone will easily print 'useful' objects in no time. His installation displays all140 uploads to the popular 3d model sharing site Thingiverse in one 24 hour period, and leave it to you to decide if 3d printing a needed and useful mass-consumer technology.
Collected Works -  Solange Frankort
Major Fine Art / Minor Hacking
In The Touch Screen has Replaced Me, Ik zit Op de Computer, and Beeldscherm, visual artist Solange Frankort presents a collection of works which represent her uncanny relationship with technology. The physicality and aesthetics are of our commonplace devices come to the forefront through Frankort's unusual and often performative framing.
My Dataland -  Arantx Gonlag
Major Photography / Minor Hacking
In 'My Dataland', photographer Arantx Gonlag offers a glimpse of her search to find the destination of her digital data. This quest leads not only to the physical infrastructure of cables, but also the places within and outside the Netherlands where this personal content is stored. As a consequence of her personal investigation, many questions over ownership, security and control have arisen. Gonlag presents during DEAF fragments of her research. The entire quest will be presented from May 25-29 during the Willem de Kooning's graduation show.
Leave A Message Box -  Yoana Bouzova
Master Piet Zwart Institute
Leave a message is a participative project that attempts to initiate a network of voice mailboxes that allow members of the public to record and distribute audio messages in public space. Each box is a simple device, that has the functions to record and playback audio. With this project Yoana is creating a collaborative audio story, a non-instant dialogue, created by acts of strangers. The boxes provide playful performative moments for passers by to break from routine and enter into a network of anonymous voices, travelling an unplanned journey trough cityscapes. www.leaveamessage.at
Tickets
from 22 May 09:30 - 21:00
from 26 May - 9 June 10:00 - 17:00
Het Nieuwe Instituut Zaal 1
Free entrance
ARE YOU GOING TO BE THERE? JOIN THE FACEBOOK EVENT FOR THE LATEST UPDATES.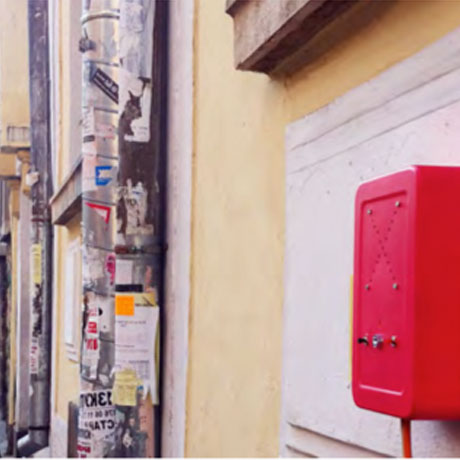 Yoana Bouzova - leaveamessage