DEAF CINEMA by KinoKino: We're Caught in a Trap, I Can't Walk Out, Because I Love You Too Much Baby, 23 - 24 May
Weaving freely in and around ghostly histories, myth, cataclysm, expectation and acceptance are two KinoKino film programmes jammed full of artists' film, radical in-between-ness and all lovingly curated by Peter Taylor.
It doesn't take too much a leap of imagination to realize the entrapping lure of progress - its ratcheting up of moral and material expectations of greatness that are possibly unsustainable.  Yet we're still enthralled by this myth, we're still mostly committed to the propping up of its paradigms.
Confronted however with the merciless weight of history and the dust and bones upon which our doomed empires of unceasing progress are constructed, might it be possible instead, to embrace the certainty of uncertainty and to live lives without consolation?
Might it be possible to create acceptable myths for ourselves - fictions which aren't illusory?  The poet, Wallace Stevens suggested this, 'The final belief is to believe in a fiction, which you know to be a fiction, there being nothing else. The exquisite truth is to know that it is a fiction and to believe in it willingly'. external link
Programme Saturday 24 May
19:30 - 21:00
Het Nieuwe Instituut, Auditorium
€ 5 / Tickets
Visionary Iraq
Gabriel Abrantes & Benjamin Crotty
2009 | Portugal |  17 min | video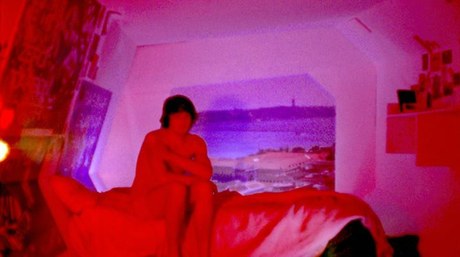 A Portuguese boy and his adopted Angolan sister caught up in Operation Iraqi Freedom.  Gallery openings, secret love affairs, exploitative infrastructural investments – it's a melodrama for our times - moral decisions have to be made.
The Dark Krystle
Michael Robinson
2013 | United States | 10 min | video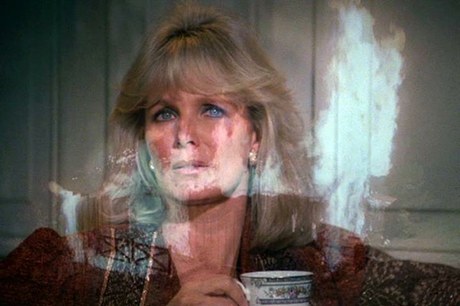 "The cabin is on fire! Krystle can't stop crying, Alexis won't stop drinking, and the fabric of existence hangs in the balance, again and again and again." – MR
Arrastre
Nicholas Brooks
2010 | United Kingdon  | 8min | video
With its title denoting both a choreographical term, 'to drag' and a crude apparatus for pulverising ore, Arrastre creates a universe from plexiglass, paper and stone.  Things and non-things come into relation with each other as protagonists in an intriguing drama of indeterminate parameters and force.
schleifen
to raze
Juliane Henrich
2014 | Germany  | 8min | video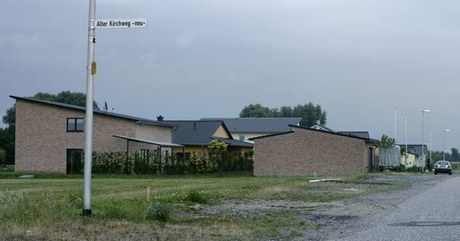 6 min, Germany,  digital file
An uncanny journey through a German village which appears almost as a film set. There's an uncanny sense of displacement, erasure and doubling. New houses line freshly paved streets that all have the suffix  '-neu' at the end. The journey ends on the outskirts of the village, and an astonishing reveal.
A Idade da Pedra
The Age of Stone
Ana Vaz
2013 | France, Brazil  |29 min | digital file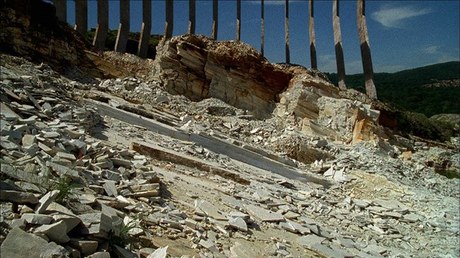 "As artificial as the world must have been when it was created"
A voyage into the far west of Brazil leads us to a monumental structure - petrified at the centre of the savannah. Inspired by the epic construction of the city of Brasília, the film uses this history to imagine it otherwise. "I look at Brasília the way I look at Rome : Brasília began with a final simplification of ruins".  Through the geological traces that lead us to this fictive monument, the film unearths a history of exploration, prophecy and myth.
PROGRAMME FRIDAY 23 MAY
MOUNT SONG
SHAMBHAVI KAUL
2013 | INDIA / USA  | 9 MIN | VIDEO
Shambhavi Kaul's excavations and reconstitutions of 1970s Hong Kong cinema, depict a much circulated and easily recognised version of the ancient East,  creating something entirely new whilst uncovering genealogies of appropriation by camera.
THE UNDISCOVERED DRAWER
SHANA MOULTON
2013 | USA, FRANCE | 9 MIN | VIDEO
Alchemised with wonder we're ushered to wide-eyed transcendence with a hallucinatory tableau of clocks, domestic plastics and luridly soothing colour.
http://www.shanamoulton.info/
COLD OPEN
SEAMUS HARAHAN
2014 | NORTHERN IRELAND | 14 MIN | VIDEO
Drenched in creeping damp and malaise, the visual consequence of a powerfully 'absent-minded gaze in response to the world'.  Seamus Harahan'scrutinising lens reveals the gestures, machismo and arm-punching dynamics of Northern Irish youth.
LET US PERSEVERE IN WHAT WE HAVE RESOLVED BEFORE WE FORGET
BEN RUSSELL
2013 | 20 MIN | UNITED STATES | VIDEO
FLOWER
NAOKO TASAKA
2012 | JAPAN / USA |21 MIN | VIDEO
"It's been a long winter.... The bear woke up midnight from hunger..."
When flower's a verb.  "Naoko Tasaka's sphinx-like Flower unfolds like a children's story before it plumbs the depths of both a physical and metaphorical surface, as straightforward narration gives way to sublimated abstraction.'" (Andréa Picard)
Tickets
DEAF CINEMA by KinoKino
Friday 23 May
19:30 - 21:00
Het Nieuwe Instituut Auditorium
€ 5 / Tickets
DEAF CINEMA by KinoKino
Saturday 24 May
19:30 - 21:00        
Het Nieuwe Instituut, Auditorium  
€ 5 / Tickets
For the latest updates join the Facebook event for DEAF Cinema on 23 May or 24 May