Meet artists at the DOTS Magazine DEAFForum
Dots Magazine is hosting meeting points for visitors, makers and influentials! How? Digitally at the DEAFForum & physically at the Doe-Dek in Het Nieuwe Instituut where people talk, discuss and ask questions about the festival. At the Doe-Dek you can sit down 1-on-1 with artists from the line-up!
Today Dots spoke with artists Gabriella Golder, Noodlebar and Boris Petrovsky about their work and their experiences at DEAF:
"Very nice to meet Gabriela Golder, artist of The Conversation Piece (the installation) from the main exhibition of DEAF. She told us she is very excited to stick around at the festival, to see everything of course.. but also to register the reactions to her installation. The reactions seem to vary a lot from exhibition to exhibition, especially according to the audience. She also exhibited the piece in a 'non-art' context, which mainly brought about a discussion about politics. One time it even got called an indoctrinating piece. But these reactions are great, she says, it shows the interaction people have with the piece and the attention they pay to it."
"With Boris we talked about the role that technology has in our day-to-day life. His installation shows home appliances from between 1 and 60 years old. It sends a message of sustainability, sets you thinking about the way you see and use them yourself and because the artist in some way gives them a voice, it also (in our perspective) makes you think about smart technologies and the current situations with technology in our lives."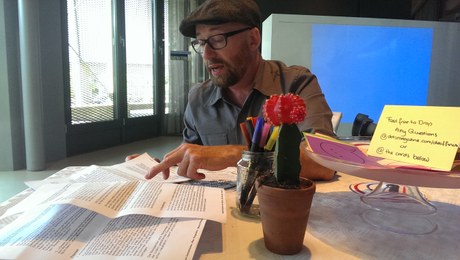 Boris reading and showing his philosophical work, which for him is always the basis for his projects.
"These guys from Noodlebar have a true passion for what they do, but what that is, is not so easily pinned down.... is it art? is it making music? Or a little bit of both? We feel experimenting with soundtechnology might be a good first description, using modular systems and synths.
They tell us, they are appreciated a lot for their technical background and their audience sometimes is more interested in what they are doing opposed to what the music sounds like... 'people can come up to me during a set to ask what technique I just used.' Dennis Verschoor tells us. Maybe that's also why it can surprise them, when the audience starts to dance. Not that it is not danceble, but they are not quite used to it.
This and their elaborate setting (which they are building up right now) are making us very curious. Looking forward to their performance at 9pm at the HNI Foyer. Let's see if we will bust out our dancemoves :) If you're not at DEAF tonight, they host regular evenings at Roodkapje."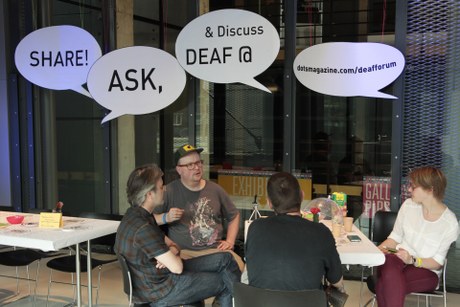 Guests Friday 23 May
Location: DOE-Dek @ Het Nieuwe Instituut
12:30 Michel van Dartel – Curator of the Main Exhibition
15:00 Thijs de Wit - PIPS:lab
16:00  Niki Smit - Monobanda
Guests Saturday 24 May:
LOCATION: DOE-DEK @ HET NIEUWE INSTITUUT
12:30 Jonas Vorwerk - Spawn
14:00 David Benque – artist and curator of Blueprints for the Unknown exhibition
16:00 Melle Smets – Turtle 1